Devour & the OCA
Social Magnet Productions Inc. is pleased to present Devour on behalf of the Okanagan Social and Cultural Society in support of the Okanagan Chefs Association. You will find many of the OCA's highly regarded and talented chef members showcasing their culinary expertise at Devour.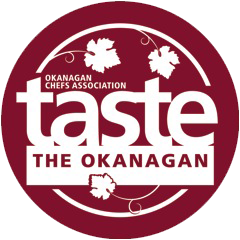 The Okanagan Chefs Association is a member of the Canadian Culinary Federation and the World Association of Chefs Society. The OCA is not-for-profit society managed by a local elected Board of Directors. Their goal is to promote professionalism in the food service industry, networking opportunities for chefs and cooks and to educate their members and the public on new developments in the industry. The OCA understands that young chefs make up the future of the industry.  The OCA places a high value on supporting and mentoring junior chefs, as well as providing bursaries which foster and encourage culinary education.
The Okanagan Chefs Association is one of the largest and fastest growing Chefs Associations in the entire country.  The priority placed on the Jr Chefs in the Okanagan has resulted in back to back titles of Canadian Junior Chef of the Year.  Jenna Angle of Local Lounge & Grill captured the title in 2012 and went on to represent Canada against the World in Las Vegas finished mere points away from first place.  Kate Pittman of SmackDab dominated the competition in 2013 again proving the Jr Chefs of the Okanagan are setting the standard for Canada.
At the 2013 National Conference in Edmonton, the Okanagan Chefs Association were recognized for having the most new members further strengthening the reach of the association throughout the valley.
The OCA is extremely active in the community donating their time, services and skills to events such as the Heart of Gold Gala for the Kelowna General Hospital, and the Valentine's Dinner for the Less Fortunate.  Members assemble and distribute Christmas hampers for the Kelowna Food Bank and participate in Stone Soup Chef raising funds and awareness for the Kelowna Gospel Mission and on International Chefs Day press fresh apple juice for distribution at the food bank.
The Okanagan Chefs Association truly brings together a community of chefs from throughout the valley who support and celebrate their achievements.  The vision of the OCA runs parallel with that of Devour, to bring recognition to the Okanagan as a culinary destination and to showcase the culinary talent that resides in the valley.