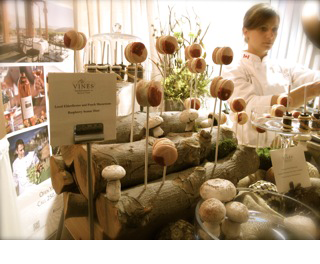 Are you looking for an opportunity to showcase your business to industry leaders and Okanagan foodies?  Do you have a reputation to maintain? Does your target market place a high premium on gourmet food and beverage? Would you love a chance to introduce yourself to some of the most sought after consumers and culinary professionals in the Okanagan in a social setting? Whether you are the leader in your industry or the next big thing, Devour is the ideal marketing and networking opportunity for you. Did we mention a whole lot of fun too!
Join us as we celebrate and show-off the best talent, products and service that the Okanagan has to offer. Presenters include restaurants, caterers, high-end grocers, culinary kitchen suppliers, craft distilleries, craft breweries, wineries, wine agents, premium beverage agents, and distributors and producers of specialty fine food products.
Leave it to Devour's Event Management team to showcase your business in the Okanagan's first event devoted to culinary professionals and the foodies who love what they do.
We invite you to be creative with your booth and tasting offerings. Showcase your culinary excellence.
To present at Devour contact the Event Director, Holly Dober at info@socialmagnet.ca.